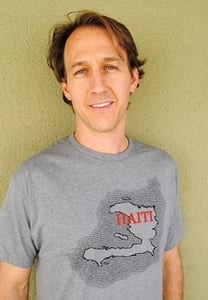 $

10.00 - On Sale
We are excited to finally have our Haiti tees available for our adoption fundraiser.  We have also wanted to do something since the earthquake to raise money for Heartline Haiti, who we believe to be doing so many good things on the ground in Haiti.  We decided to merge the two - so when you buy a t-shirt, you will be supporting our adoption, and we will donate $5 from each sale to Heartline Haiti.
The tees are Hanes Tagless 100% Comfortsoft Cotton.   Designed by Reed Robinson (designer for Arlington and formerly with Billabong), and M. Brady Clark (also formerly with Billabong, and now a prolific graphic designer).
Thanks so much for supporting us in our adoption journey, and for showing your support for the country of Haiti.
Please note: we will ship t-shirts out every Saturday, via Priority Mail.  Shipping is $5 for the first t-shirts, and $1 for each additional t-shirt.  If you are local, enter promo code LOCAL to adjust shipping. Thanks!